2023 Northern Colorado Real Estate Investing Guide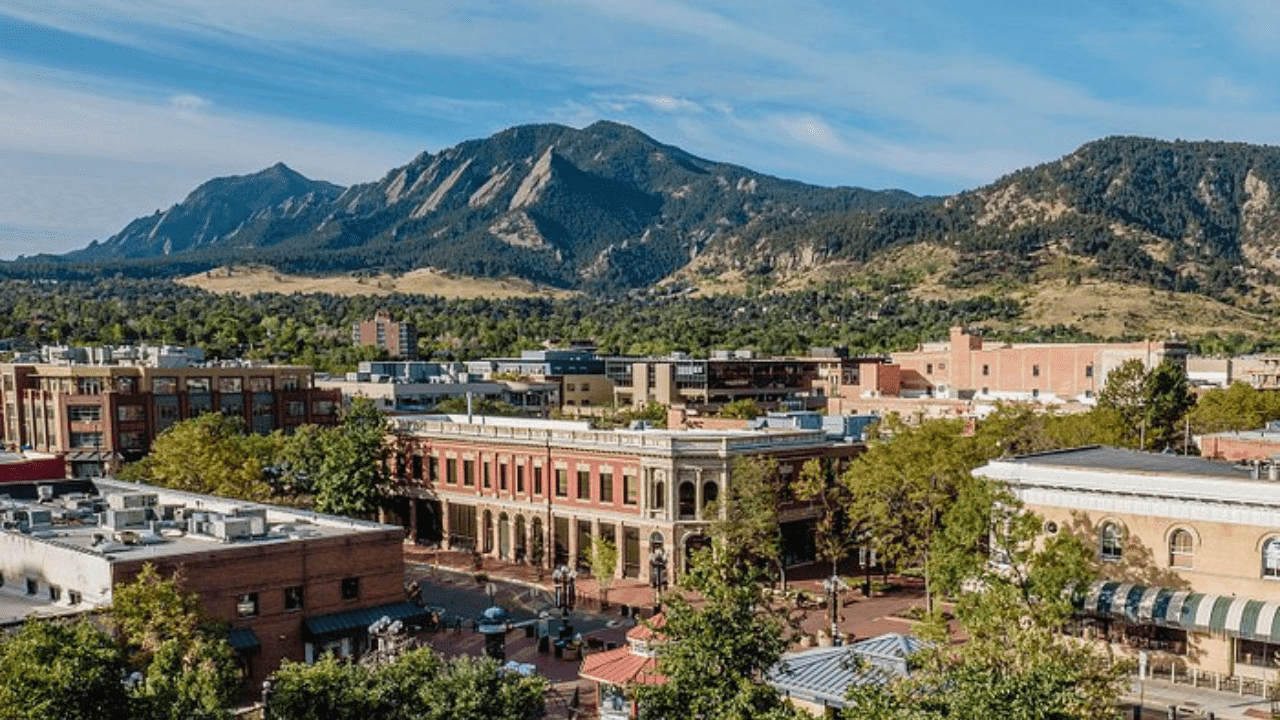 What do you need to know about Northern Colorado?
Northern Colorado market has significant investment opportunities

BUYING NOW = BUYING EQUITY
Winning strategies include

New construction opportunity to buy equity
House Hack (Single Family and Small Multi) 
Long Term Rental Single Family Rental

Positive Drivers for Northern Colorado Real Estate include

Highest population growth in Colorado 
Job growth and new big investments drive future growth

Market Considerations

Interest rates limiting sellers from putting on market
Barrier to investors seeking cash flow
More renters because they can't afford to buy
Still too little supply of houses

Opportunity Costs

Waiting until rates come down, will lose time in the market.  
Pent up demand – when rates go down, rush of potential buyers will push prices up and will need to compete again at higher price levels.
Start analyzing your Colorado investment properties today
Rental Property Spreadsheet • House Hacking Spreadsheet BRRRR Calculator Spreadsheet • Fix and Flip Deal Analyzer Investing Maps • Rehab Pricing Estimator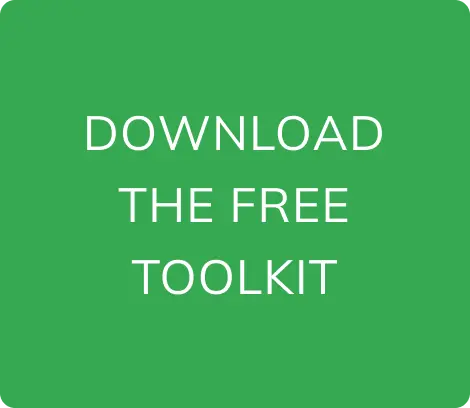 Northern Colorado Real Estate Trends
Northern Colorado detached single-family homes price increase is 2x Denver.
Northern Colorado attached single-family homes price increase is 6x Denver.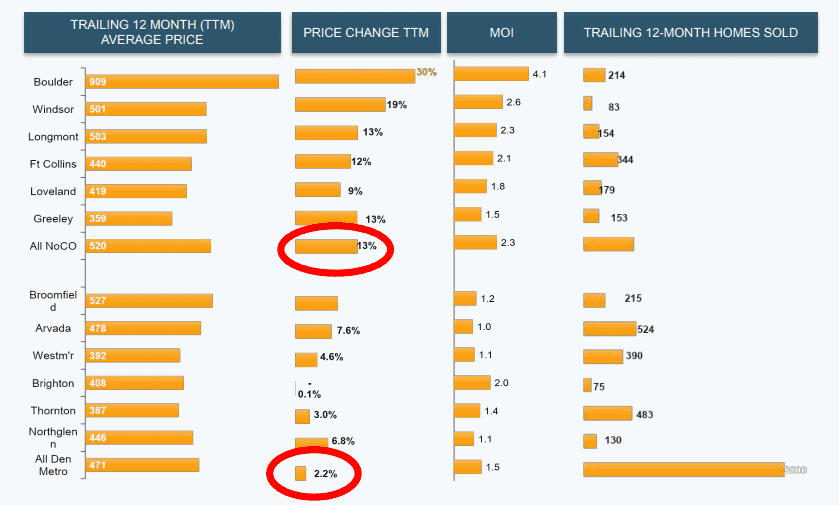 Big 5 Average Price is Up 9.18% / YR
Northern Colorado is made up of 5 counties (also called the Big 5) which includes Loveland, Longmont, Boulder, Fort Collins and Greeley. Home prices in the Big 5 are currently averaging 9.18% in appreciation per year.
Big 5 City Homes: Historical Context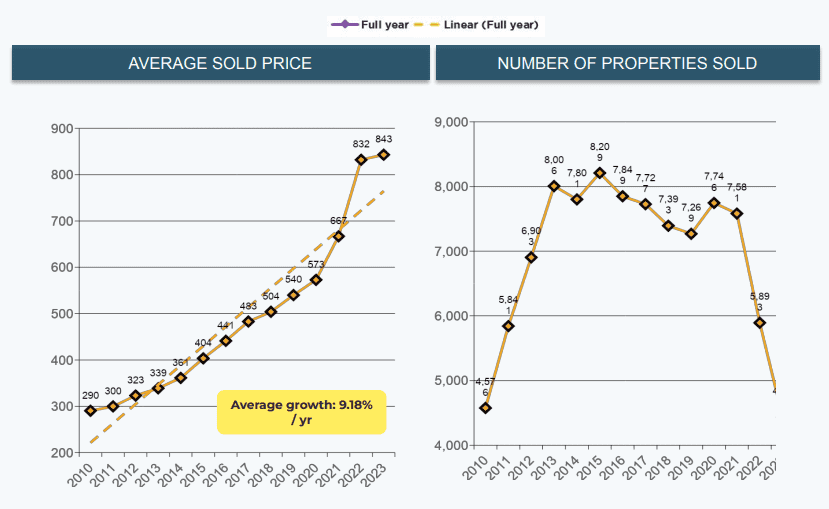 The 3 primary drivers of growth in Northern Colorado's Real Estate Market are
Market as a Brand: Each market is a collection of perceptions, similar to brands embodying certain qualities. Northern Colorado, including places like Denver, Fort Collins, Greeley, and Colorado Springs, carries a distinct character and momentum meaning they're more likely to grow.
Job and Population Growth: Efforts are being made to attract job-ready young individuals, fostering a stronger workforce. This initiative is crucial as businesses rely on quality employees for growth. The region is focusing on establishing partnerships with high schools and colleges to provide businesses with skilled workers directly from these institutions, promoting an easy transition from education to employment.
Economic Environment: The state maintains lower unemployment rates compared to the rest of the US, indicating its favorable economic position.
Northern Colorado accounts for 51% of Colorado's growth. With 15% coming from Larimer county and 36% coming from Weld County.
"New" is driving Northern Colorado Real Estate up including new construction and new investments into the region.
Jobs Drawing people to Northern Colorado
Source: U.S. BLS, Local Area Unemployment Statistics
More tech companies and large institutions are moving to Northern Colorado including Ursa Major Tech, Vestas, Agilent Technologies and Microvast amongst others.
Tech & Higher Paying Jobs
Northern Colorado Driving Co Pop Growth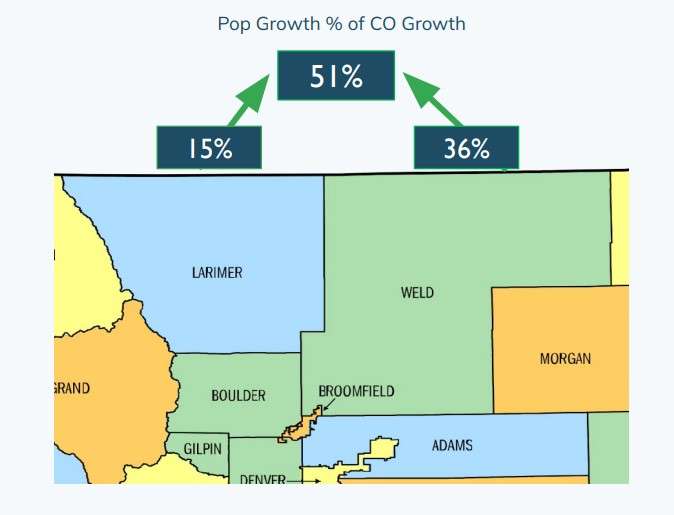 "New" is driving Northern Colorado Real Estate Up
Strategy circle: Where's the opportunity?
Are we in a false sellers market? The short answer is Yes. When we're looking at months of inventory (MOI)  if it's under four months, we generally consider that a seller's market. If it goes four to six months, we're starting to move to a balanced market. If it's above that, it's a buyer's market. 
But there's something else that's going on right now that isn't always obvious to people. Which leads us to our next point.
Artificially High Interest Rates
There's an artificial play happening on interest rates. This is causing sellers to avoid putting their properties on the market because they may not get the value they're seeking for them. Thus creating what we would normally look at at first glance as a seller's market. It's actually a buyer's market out there.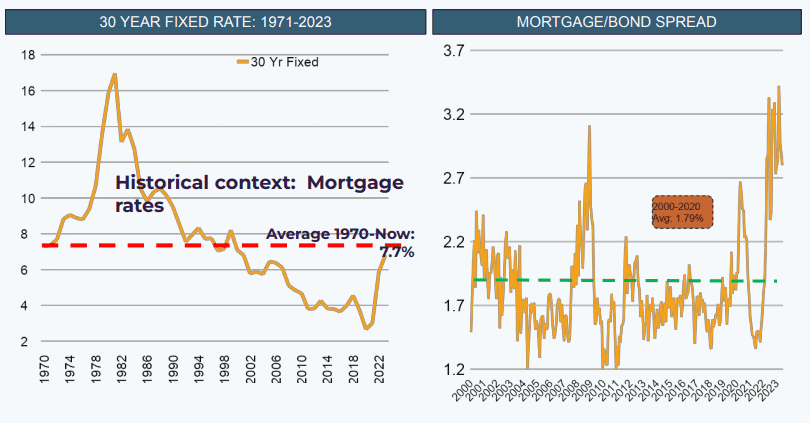 Pick Your Strategy Wisely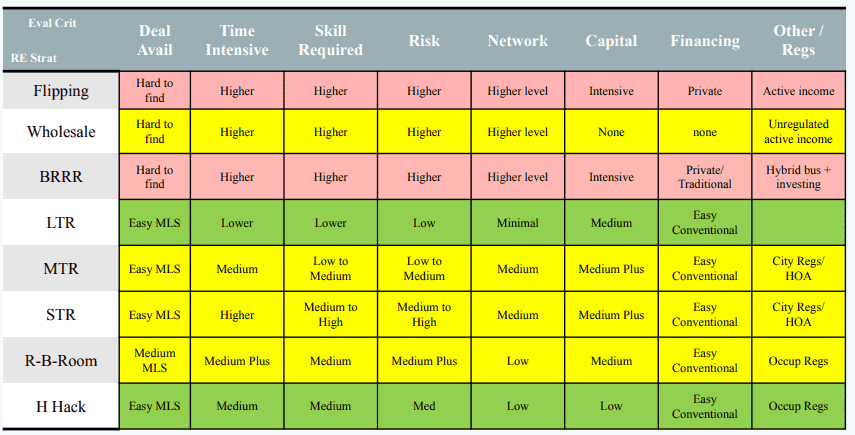 Northern Colorado Deal Analyses
Investor client was looking to add to their rental portfolio.  Denver prices and interest rates create challenges so the client wanted to see if Northern Colorado has lower prices and if new construction can provide discounts/incentives.  Looking for a property under $500K and close to cash flow positive, if possible, could self-manage.
Investor with a couple Single Family Rentals
Wanting to purchase in 2023 and continue to build portfolio
Looking for lower price points and if New Construction has deals and low maintenance
Consider Self-management
MLS has most of the properties but not all the incentives.
 Investor Friendly Agent has additional builder contacts and knowledge
Investment Property Details
Type:  Single Family Detached – New construction
Config: 4 bedroom, 2.5 bathroom
Location:  Severance, CO
Concession:  $13,571 (3%)
List Price:  $477,375 + $25K options = $502,375
Discount:  $50,000
Purchase price:  $438,803
Why we like it
Gain $63K equity day one
New construction, low maintenance
Good up-and-coming area
Notes on monthly income:
Potential pet rent

Could self manage

Maintenance in reserves
Total Return Y1 $22.3K /13% ROE
Refinance to 5% in 12-24 months – cashflow positive

Total Ann Return after Refi 

$29K /16.7%

 ROE
Good deal to acquire equity and lower cost of entry in higher interest environment.  
Opportunity to self manage, add pet rent to get closer to cash flow positive.  
Opportunity to refinance in 12-24 months and have some positive cash flow. 
Deal shows that buying now is buying equity and gets better with refi,
When rates decrease people will bid up prices, further benefiting this property through greater appreciation.
Deal #2: 1-year house hack to rental
Client was looking to get their first property and felt House Hacking was the best way in.  Started as owner-occupied with low down, 5%, and then rent after the first year with roommates helping pay the mortgage.
New investor – recent college grad with good job
Doesn't have a have 20% down so needs less expensive way to acquire
Likes new construction, low maintenance for first few years and in new up and coming developments
Investment Property Details
Config: 4 bedroom, 2.5 bathroom
Type:  Single Family Detached – New construction
Location:  Windsor, CO
List Price:  $491,864
Purchase price:  $491,864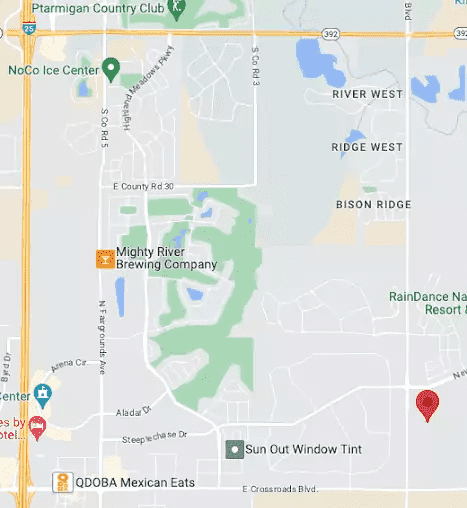 Why we like it
New construction, low maintenance
No bidding up prices with new builds
High demand community
Finding the property:  We focused on a couple of communities and builders for a good entry level property that would make a good rental.  Watched for a new phase of a sought-after community releasing.  Client was prepped and ready and we were able to get property quickly after release.
Under contract:  At list price + Options
Contract: Builders Contract, favors them

Ernest is 50% of options, goes hard immediately

Inspection Concerns:

New build Inspection items 
Most corrected before close
Rest in warranty 12 months

Inspection negotiation outcome:
Lender: Conventional
Loan Type: Owner Occupied, 30 Yr fixed
Interest Rate:  4.375%
Appraisal: $29K over purchase price
Seller Concessions: 0%
PMI: Monthly
Interest Rate Buy Down?: No
Note:  Was able to lock in rate 120 days out, made a big difference.  Lock in rate premium was applied to the closing costs.
Notes:
Purchase price at list

Low down payment made acquisition possible

 
Notes:
Trash and NP Water billbacks

Maintenance in reserves

PMI goes away in 4 yrs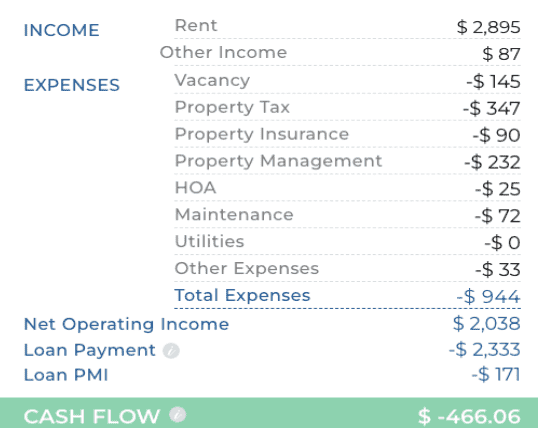 Total Return Y1 $32.3K /48.3% ROE
Great leverage strategy with 5% down in a high demand community development

Earns ~$200 to ~$400 per month above same model in other developments.  

PMI will fall off and rents will cover and have positive cashflow by year 5.  

Should have low maintenance for first few years.
Deal #3: House Hack Fourplex
Client and parents looking for opportunity to get an investment property while their college student child goes to college and could benefit and learn about investing and managing a property.  Parents have other properties and understand will cosign for the property with college student.
New investor – College Student with Investor parents
Utilize owner occupied to get better interest rate and lower down to acquire property
Wants to learn how the small multifamily works and have less housing expense
Investment Property Details
Resale – 4 Plex 7bdr/ 4ba
Location: Greeley, CO
Asking Price: $500,000
Purch Price: $475,000
Why we like it:
Close to UNC
Minimal monthly cost (renters pay)
Opportunity to self mgt
No HOA/ No Metro Tax
Finding the property:  We searched 4 unit near campus.  Looking at long days on the MLS
Under contract:  Below list
Inspection Concerns:

1916 build 
Looking at structure and major mechanical

Inspection negotiation outcome:
Lender: Conventional
Loan Type: Owner Occupied, 30 Yr fixed
Interest Rate:  6.0%
Appraisal: at value, no issues.
Seller Concessions: 0%
PMI: Monthly
Interest Rate Buy Down: No
Notes on monthly income:
Analysis on 4 renters

Higher reserves due to age of property

PMI goes away in 5 yrs
Notes on monthly income:
Purchase price below list
Total Return Y1 $29,639 /60.8% ROE
16.83% CoC / 8% Cap rate
Cash flows as a rental with self mgmt
Provides almost free rent for student
After completing college can fully rent or have property mgr
Appreciation slower due to age and location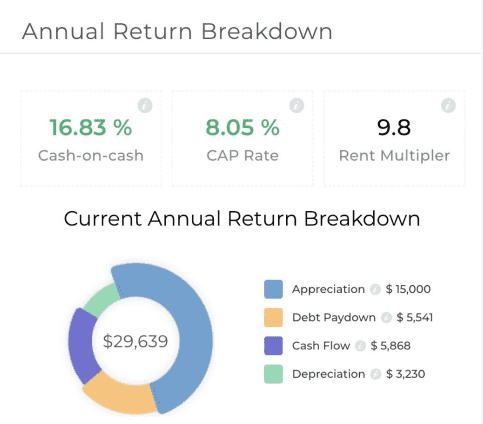 Download the Webinar Slides Here